Orbera Gastric Balloon Procedure
Are you tired of following fad diets that fail to produce long-lasting results? Do you struggle with weight-related health conditions such as diabetes or hypertension? Would you love to look great, feel great and improve your quality of life? Treatment with the revolutionary Orbera gastric balloon makes that possible. The Orbera gastric balloon triggers substantial weight loss quickly and safely — without the need for surgery, crash dieting or other questionable techniques. The revolutionary treatment is available with Dr. David Buchin of Long Island Obesity Surgery.

Take Your First Step To A Better Quality Of Life
In addition to being minimally invasive and reversible, the gastric balloon has other advantages. The nature of the balloon does not interfere with the absorption of nutrients; therefore, patients are less likely to develop a vitamin deficiency. Also, the health benefits of weight loss are well-documented. Losing excess weight can improve or even resolve type 2 diabetes, sleep apnea, high blood pressure, asthma and high cholesterol.
​​​​​​​
Dr. Buchin is that type of bariatric surgeon. Expertly trained and extensively experienced, Dr. Buchin is committed to providing his patients with safe, effective solutions to obesity. He is supported by a hand-picked team of weight loss professionals that value your health and happiness. When you work with Dr. Buchin and our team, you can expect exceptional and personalized medical and surgical care.

The Benefits Of The Gastric Balloon
Non-surgical weight loss treatment
Helps control appetite and manage hunger
Removable/reversible
Low-risk

​​​​​​​The Orbera gastric balloon is a soft, silicone balloon that is placed inside your stomach. When inflated, it reduces your stomach's capacity, which produces the sensation of satiety. Since the stomach holds less, you feel fuller with smaller amounts of food. This triggers rapid weight loss.



More About The Gastric Balloon
The Orbera gastric balloon is placed during a non-surgical, minimally invasive procedure. It is inserted through an endoscope into the stomach in a deflated state. Then, it is inflated with a sterile saline solution. The process is performed under light sedation and takes 20 to 30 minutes.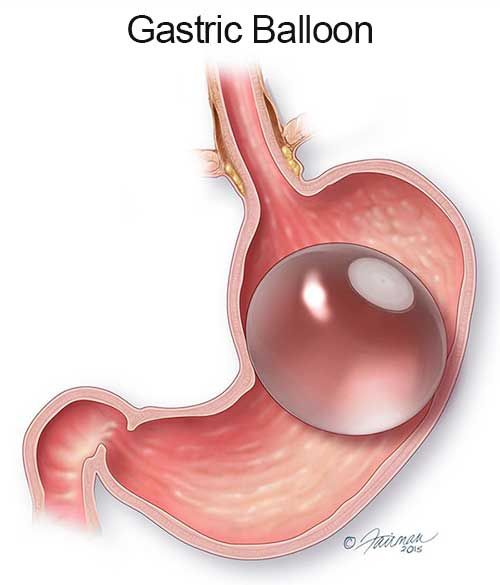 ​​​​​​​The gastric balloon is designed to remain in your stomach for up to six months.
Long Island Bariatric Surgeon Dr. Buchin
and his team will monitor your progress and provide ongoing psychological support during the six months. We will set up a comprehensive diet and exercise plan to prepare you for long-term success after the gastric balloon is removed. The removal process is similar to the placement, and performed with light sedation.
​​​​​​​

Am I A Candidate For The Gastric Balloon?
You might be a candidate for the Orbera gastric balloon if you are 30 to 100 pounds overweight with a BMI of 30 to 40. Dr. Buchin will meet with you personally to evaluate your current health status and decide whether the gastric balloon is a suitable treatment option. He considers a variety of factors when making this decision, including your medical history, previous weight loss attempts and long-term weight loss goals.
​​​​​​​

Learn More About The Orbera
For more information about the Orbera gastric balloon, and to determine whether you are a suitable candidate, please
contact
Long Island Obesity Surgery today. Call (631) 351-2024 to schedule a consultation with leading bariatric surgeon Dr. David Buchin